Survey Results: Desert island songs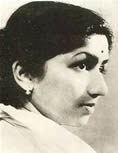 In this SurveykshaN, participants were asked to select up to 35 solos (solos with chorus included) sung by Lata during 1954-1958 for Hindi films, for a desert island scenario. This was the second survey in a planned five-part series that will cover rest of her singing career. See results of the first part.
'rasik balamaa' from Chori Chori got the top spot with over 63% selections. Not far behind were Champakali's 'chhup gayaa koii re duur se pukaar ke' and Jailor's 'ham pyaar me.n jalanewaalo.n ko chain kahaa.N'. They both shared the second spot with 60.42% selections. 'chaa.Nd phir nikalaa' from Paying Guest and 'phailii huii hai sapano.n kii baa.Nhe.n' from House No. 44 were respectively 4th and 5th most favorite songs. See complete list of songs.
Highlights
* Total number of solos by Lata during 1954-58: 690# (in Part 1: 687)
* Number of songs selected by two or more participants: 232 (in Part 1: 223)

* Number of songs getting only one vote each: 89
* Songs selected by...
60% or more participants: 3 (P1: 2)
50% or more participants: 8 (P1: 5)
40% or more participants: 14 (P1: 10)
15% or more participants: 63 (P1: 55)
10% or more participants: 81 (P1: 80)
fewer than 5% participants: 182 (P1: 204) 
* Films covered by selections: 145
* Top 10 films (based on cumulative total votes for songs of a film) 
Naagin  123
Madhumati  122
Adaalat  115
Chori Chori  97
Amar  96
Seemaa  89
Udan Khatolaa  81
Basant Bahaar  71
Aazaad  65
Dekh Kabiraa Royaa  65

 #: According to Vishwas Nerurkar's 'गंधार स्वरयात्रा'
Participants (96)
Abhay Jain, Abhay Phadnis, Abhijit Deonath, Aditya Pant, Afzal A Khan, Ajay Poundarik, Ajit Rajwade, Ali Rashid, Amarendra R Nargundkar, Anand K, Anand Tiwari, Anil Hingorani, Anil Kala, Anup Pandey, Apoorv Moghe, Archisman Mozumder, Arun Gupta, Arun Sampath, Arun Verma, Arunabha S Roy, Asif Alvi, Ati Ullah, Bhavita Toliya, Brij Sharma, Chetan Vinchhi, D V Shastry, Deepak Karmarkar, Devraj M V, Dinesh KrishnaJois, Dr Uday Jejurikar, Faraaj, Hildebrand, Indra, Jay Subramanyam, Jaydeep, Jyotirmoy, K S Shenoy, K Vijay Kumar, Kalyan Kolachala, Kanti Shah, Kaurvaki, KCP, Ketan Dholakia, Khawaja Irfan Anwar, Kumaraswamy Sekar, M Ahmad, M V Krishnan, M V Rajagopal, Mahadevan Khantha, Medha, Meghal, Mitesh Gandhi, Mohan Dwivedi, Mukta Gokhale, Naresh Dabas, Naresh Khattar, Narsingh D Agnish, Pavan Jha, Pran Katariya, Prasanna, Puneet Jha, Qamaal Mustafa Sikander, Raaz, Rajeev Sharma, Ravi Marathe, Ritu Chandra, Robin, Roopa Dhawan, Rpnawani, S Viswanathan, Sancho Chandran, Sandeep, Sani Thakur, Sathya Sekar, Shalini Razdan, Shashi Hegde, Shashi Rao, Shekhar, Shrinivas Phoujadar, Sowmya, Srinivas Ganti, Srivathsan, Subhas Ghosal, Sukesh Hoogan, Swati, Swati Natekar, Tabassum, V Gopalkrishnan, V N Rao, Vibhendu, Vijay Bhaskar Dixit, Vikram, Vinay, Vish Krishnan, Vishwas Nerurkar, Zafar
* Number of songs selected by each participant
Participants who selected 35 songs: 29 (30%) [in Part 1: 11%]
Participants who selected 30 songs or more: 73 (76%) [P1: 60%]
Participants who selected 15 or fewer songs: 4 (4%) [P1: 9%]