Survey Results: Desert island songs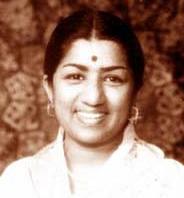 In this SurveykshaN, participants were asked to select up to 35 solos (solos with chorus included) sung by Lata during 1959-1966 for Hindi films, for a desert island scenario. This was the third survey in the series of Lata surveys. See results of the first part and second part.
'jyoti kalash chhalake' from Bhabhi Ki Chudiyaan got the top spot with over 63% selections.On the second spot was Parakh's 'o sajanaa barakhaa bahaar aaii' with over 59% votes. Next was Dil Apna Aur Preet Parai's 'ajiib daastaa.N hai ye' that got over 47% selections. 'kuchh dil ne kahaa' (45%) from Anupama and 'rahe.n na rahe.n ham' (42%) from Mamta were respectively 4th and 5th most favorite songs. See complete list of songs.
Highlights
* Total number of solos by Lata during 1959-66: 757# (in Part 1: 687; Part 2: 690)
* Number of songs selected by two or more participants: 288 (in Part 1: 223; Part 2: 232)

* Number of songs getting only one vote each: 72 (Part 1: 99; Part 2: 89)
* Songs selected by...
60% or more participants: 1 (P1: 2; P2: 3)
50% or more participants: 2 (P1: 5; P2: 8)
40% or more participants: 10 (P1: 10; P2:14)
15% or more participants: 70 (P1: 55; P2: 63)
10% or more participants: 109 (P1: 80; P2: 81)
fewer than 5% participants: 178 (P1: 204; P2: 178) 
* Films covered by selections: 209 (P2: 145)
* Top 10 films (based on cumulative total votes for songs of a film) 
Parakh  99
Anuradha  92
Guide  89
Anpadh  87
Anupama  85
Amrapali  82
Mughal e Azam  82
Bhabhi Ki Chudiyan  79
Woh Kaun Thi  78
Dil Apnaa Aur Preet Paraai  77

 #: According to Vishwas Nerurkar's 'गंधार स्वरयात्रा'
Participants (99)
अफ़लातून, Abhay Jain, Abhay Phadnis, Abhay Tiwari, Abhijit Deonath, Aditya Pant, Afzal A Khan, Ajay Divekar, Ajay Poundarik, Ajit Rajwade, Ali Rashid, Amarendra R Nargundkar, Anand K, Anand Tiwari, Anil Hingorani, Anil Kala, Anup Pandey, Apoorv Moghe, Archisman Mozumder, Arun Gupta, Arun Sampath, Aruna, Arunabha, Ashok Dhareshwar, Asif Alvi, Balaji Murthy, Bhavita Toliya, Chetan Vinchhi, D V Shastry, Deepak Karmarkar, Deepak Soni, Devang Mistry, Dr Rashmin Tamhne, Faraaj, Gopalkrishnan, Indra, Javed Nomani, Jyotirmoy Gupta, K Satish Shenoy, K Vijay Kumar, Kalyan Kolachala, Kanti Shah, KCP, Ketan, Khawaja Irfan Anwar, Lavanya Shah, M Ahmad, M V Krishnan, M V Rajagopal, M S Parthasarathy, Mahadevan Khantha, Mahesh, Medha, Meghal, Mitesh Gandhi, Mohan Dwivedi, N Sridhar, Naresh Dabas, Naresh Khattar, Narsingh D Agnish, Neeru, Phoujadar, Pran Katariya, Prasanna, Pratik Majumdar, Puneet Jha, Qamaal Mustafa Sikander, Raaz, Rajarshi Majumdar, Ravi Marathe, Robin, Roopa Dhawan, Rpnawani, Rupa Dore, Sancho Chandran, Sandeep, Sani Thakur, Sathya Sekar, Shalini Razdan, Shankar Iyer, Shashi Hegde, Shashi Rao, Shekhar, Srinivas Ganti, Subhas Ghosal, Sujayita Roy, Sukesh Hoogan, Suraj P Vohra, Swaraj Mishra, Swati, Swati Natekar, Tabassum, UVR, Vandana N Vidwans, Vibhendu, Vinay P Jain, Vish Krishnan, Yatin Sangoi, Zafar Syed
* Number of songs selected by each participant
Participants who selected 35 songs: 69 (69%) [in Part 1: 11%; Part 2: 30%]
Participants who selected 30 songs or more: 88 (88%) [P1: 60%; P2: 76%]
Participants who selected 15 or fewer songs: 4 (4%) [P1: 9%; P2: 4%]